Outreach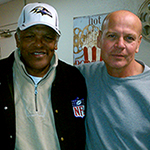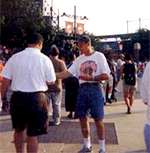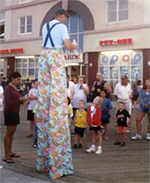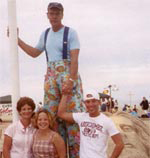 Lantern Ministry's current ministry lineup includes:
Truck Stop Ministry
Our heart has always been in outreach. The Lord has Robyn and I as leaders of the truck stop located off 95 at the Truckers Inn on O'Donnell Street. We have service at 11:00am every Sunday. Since we started this ministry in May of 2001 the Lord has moved in powerful ways. There is not a Sunday that goes by where someone is not touched, saved, delivered, or healed. Join us and be a part of what God is doing with truckers.
Orioles / Ravens Outreach
The Lantern Ministry sends workers to pass out Christian Literature before some Baltimore Oriole games and all home Baltimore Ravens games.
Approximately two hours before the game a team of workers (including our dog Lily) stands in front of the entrance gate to distribute tracks and schedules to those attending the games. We have been doing this for six years with very good success.
The Lord has instructed us to go into all the world to preach the Gospel. The sporting events give us an opportunity to preach the gospel to a large gathering of people. In the Bible there is much mentioned of the disciples going into the market place to do God's work. Our Inner Harbor is comparable to the Biblical Market Place. As we preach the Gospel to every person, God in turn blesses our lives.

Ocean City Ministry
During the summer months we take stilts to Ocean City to minister to people on the boardwalk. We are able to reach 3,000 - 4,000 people who walk by as I share my testimony and blow balloons and shape them into animals for the children.
200 balloons and 500 tracks are given out in the course of an evening. We have seen many conversions and miracles in the twelve years that we have ministered on the boardwalk.
Jesus at the Beach
We are actively involved in the Son Spot Ministry located at Worcester Street in Ocean City. We participate every year in the Jesus at the Beach Music and Ministry Festival, which takes place the last Monday of July and goes through Wednesday. This event started in 1995 and has reached millions for the glory of God.
In the morning, we meet at the Ocean City Convention Center from 10-1 and in the evenings we meet on the beach from 7-10 for dramas, music, testimonies, etc. This has been an anointed ministry which has touched many people's lives. For more information call 410-289-1296.